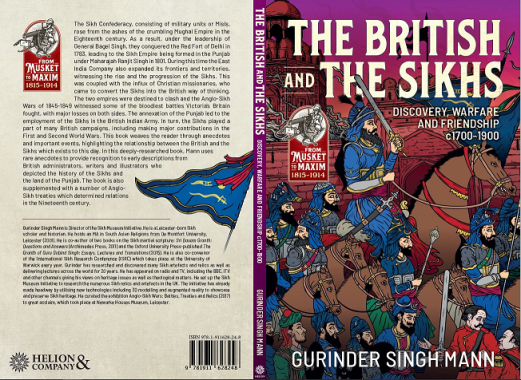 The British and the Sikhs: Discovery, Warfare and Friendship
Helion Press
ISBN: 9781911628248
ALSO AVAILABLE IN EBOOK FORMAT FOR WORLDWIDE MARKET
Order at www.helion.co.uk
THE BRITISH AND THE SIKHS C1700-1900
DISCOVERY, WARFARE AND FRIENDSHIP
BY GURINDER SINGH MANN, (HELION AND COMPANY)
A newly published book weaves readers through anecdotes and important events highlighting the remarkable relationship between the British and the Sikhs which exists to this day. In this deeply-researched book, Mann uses rare anecdotes to provide recognition to early descriptions from British administrators, writers and illustrators who depicted the history of the Sikhs and the land of the Panjab in India.
Whilst Sikhs have been part of the British fabric and society since their migration from the Panjab, India predominantly from the 1950s, there are deeper stories which tie them to the UK. With the rise of the East India Company in the India, many personnel depicted the customs and mannerisms of the populace.
Whilst most people associate the Sikhs with the World Wars, in terms of their participation, there is a hidden and much deeper relationship between them which has existed since the 18th century. Gurinder Singh Mann has undertaken research for the book by visiting India, including visiting the battlefields of the Anglo Sikh Wars and unearthing rare photographs and documents from the British Library, British Museum, the Royal Collection and many other archives in the UK.
The book covers the translation of Sikh texts, a description of martyrdom and the religious practices of the Sikhs. The Sikh Empire is given ample coverage showing the in-depth correspondence taking place between both groups. However the Anglo Sikh Wars saw the East India Company come into the conflict with the Sikh Empire which eventually led to the annexation of the Panjab. The Sikhs were absorbed into the British India Army, leading to them to participate in many military campaigns across the world.
Walkthrough of the book
Commenting on the book, Gurinder Singh Mann, said "The relationship between the British and the Sikhs can be seen through the vast depictions and commentaries which span nearly 200 years in the book. The rise of the East India Company also saw the rise of the Sikh Empire which brought about a complex relationship between the two groups. The book will appeal to people who want a wider understanding on how the relationship developed through translations, correspondence and military warfare and to anyone wishing to learn more about Sikh and British history."
Helion's Series Editor (From Musket to Maxim 1815-1914),  Dr Christopher Brice stated "
One cannot understand the British experience of Warfare during the 19th century without examining India, which occupied so much of the British Army's time and manpower throughout the period. The British and the Sikhs helps to examine this, and to introduce and appreciate an important element in this regard, namely the Sikh soldier: both initially as foe, and then as key ally.
The book is available from the leading UK Military publishers, Helion and Company:
www.helion.co.uk