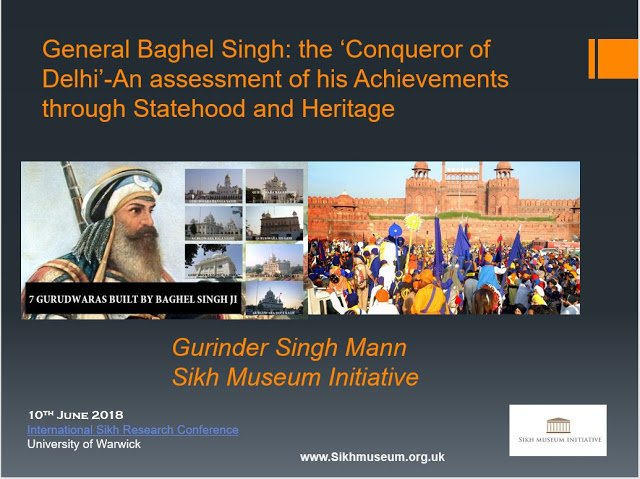 General Baghel Singh: the 'Conqueror of Delhi'-An assessment of his achievements through statehood and heritage.
Lecture given at the 5th International Sikh Research Conference 2018
University of Warwick
10th June 2018

Gurinder Singh Mann Co-Convenor of the International Sikh Conference Research Conference (ISRC) also gave an important lecture on the one of the most pivotal times in Sikh history-the conquering of Delhi by the Khalsa in 1783.
General Baghel Singh (1730 – 1802) of the Karora Singhia Misl was a military genius and served the Khalsa as a diplomat, warrior and the builder of Gurdwaras. His Misl was part of the Buddha Dal and Taruna Dal who turned the tide on the crumbling Mughal regime. Working under Jassa Singh Ahluwalia (1718 – 1783) and making alliances with other Misls he achieved the greatest victory in the eighteenth century-the conquering of the Delhi fort in 1783.
A feat which is under represented in Sikh history and as of late celebrated as Delhi Fateh Diwas. He was also to leave a great legacy in Delhi by building six Gurdwaras dedicated to the Sikh Gurus and other important personalities of the faith. Recently a number of British documents have been found by the author which highlights the shock that the East India Company had when the Sikhs ransacked Delhi. There was great alarm within British circles that the Sikhs were able to take over Delhi with relatively ease and hence this incursion could be a threat to their power base within Delhi.
The Sikh Misls domination in Northern India.
As a result, the paper analysed this new information and explained what level of power the Khalsa wielded at the end of the eighteenth century. Whilst Maharaja Ranjit Singh (1780 –1839) is seen at the builder of the Sikh Empire, it was through the work of Military leaders like General Baghel Singh which paved the way for the autonomous region of the Punjab in the nineteenth century.