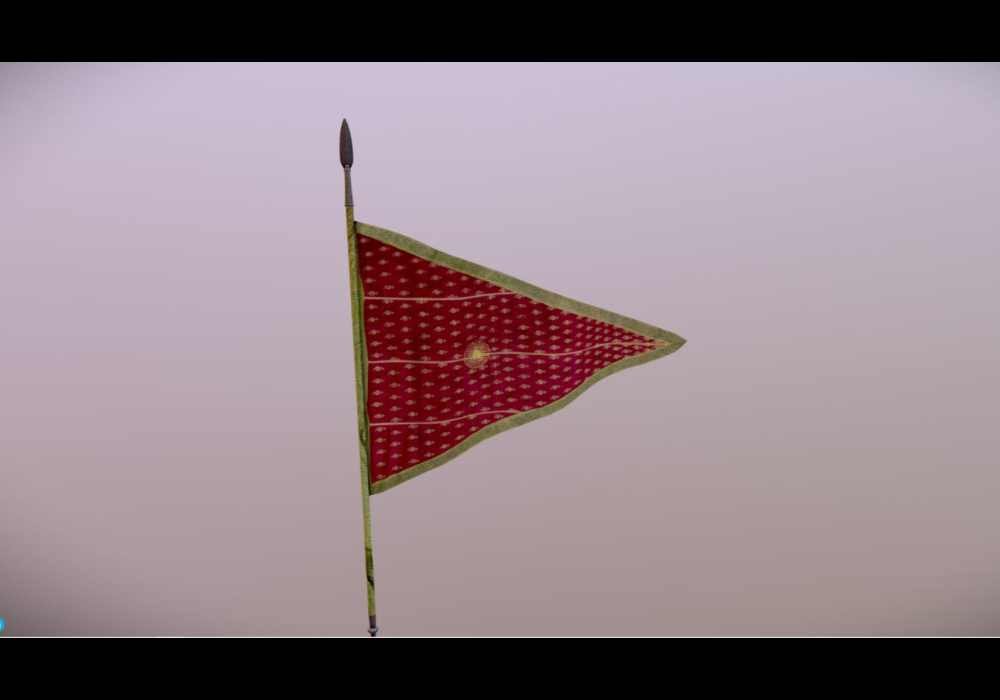 A Khalsa Army flag found on the battlefields of the Anglo Sikh Wars. Now Recreated in 3d
See the video here
After the death of the Maharajah, the Sikh Empire battled with the East India Company during the Anglo Sikh Wars of 1845-1846 and 1848-1849. It was during this time that many battle standards of the Sikh Empire were captured or found on the battle fields of the Wars.
Governor-General Lord Dalhousie (1812 –1860)
These were retrieved by the East India Company and the Governor General James Broun-Ramsey better known as Lord Dalhousie managed to buy ten Khalsa Army standards of these from a sale at a auction of the Toshkhana in Lahore. These were kept in the family in Scotland until they were made available to the public in 1990. These were bought by private collectors and now reside in the UK and Canada amongst other places.
The flag
The origins of the flag are not known and there has been much speculation on the flag from them being used by 'Hindu regiments' within the Sikh Empire to them being an integral part of the Khalsa Army. However this type of flag has been the most prominent one found related to the Anglo Sikh Wars.
The flag is composed of of triangular form with three seams, one side with central gilt solar motif on floral ground, the other with depiction of the Goddess Durga on her tiger flanked by Hanuman and Kartikeya set on ground of floral sprays, the green silk borders with gilt scrolling floral vine, with wooden pole in three sections with steel spear head terminal and steel handle with two fluted bosses with brass fittings.
Khalsa Army Flag: Photograph from the Sotheby's Sales Catalogue 1990.
Other flags found include the Akali Flag as well as Army standards introduced by the French Generals of the Sikh Empire in their Fauj-Khas. It must be said that these standards were military banners and the Sikh religious ones were different.
These standards were also referenced within the Illustrated London News of 19th December 1846 which confirm at least two these flags were found at Ferozeshah and Sobroan. Two of these could be seen at Lichfield Cathedral (now taken off display), as well as two at Maidstone Museum. These are all in need of preservation.
Technology
The 3d version of the Khalsa Army Flag was first revealed as part of the exhibition Anglo Sikh Wars: Battles, Treaties and Relics in 2017, where visitors were able to view the object on digital touchscreens. As part of the existing project Anglo Sikh Virtual Museum, the object has now been recreated so that it can be shown to online visitors. Whilst there has been much talk for many years regarding ownership and possible repatriation of the diamond to the Indian Subcontinent, the Sikh Museum initiative has worked to reclaim the Sikh heritage by going back in time and in essence shown what it would have looked like at the time of the Sikh Empire.
See the 3d version here
The Sikh Museum Initiative would like to thank Taran3d and many others who have brought this project together. See the 3d museum and other objects at https://www.anglosikhmuseum.com/relics/. Contact them at info@Sikhmuseum.org.uk