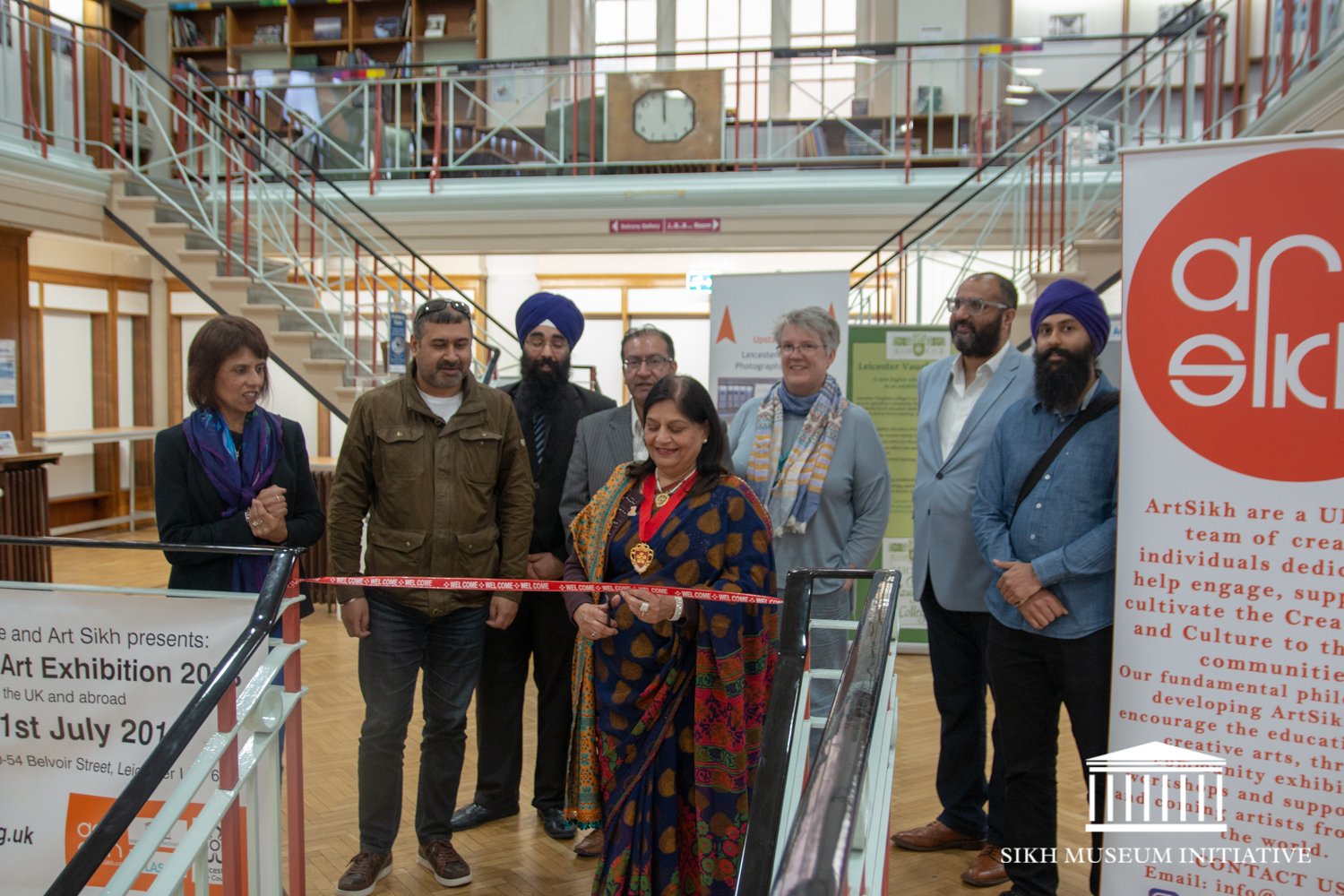 (R-L) Jasbir Mann(Falcon's Primary School, Councillor Vijay Riyait, Kartar Singh(SMI), Gurinder Singh Mann(SMI), Councillor Manjula Sood, Kerry Grey(LASALS), Raj Mann(SMI), Jasmohan Obhi (SMI)
The Contemporary Sikh Art exhibition was launched in the heart of Leicester on 11th May, initiated by the Sikh Museum Initiative and Art Sikh. The exhibition was opened by Assistant City Mayor-Councillor Manjula Sood.

The evening was hosted by the Kartar Singh (Sikh Museum Initiative), who explained the importance of having such events where the rich the history of the Sikh faith could be explored. Kerry Grey (Head of Leicester City Council's Adult Skills and Learning Service) welcomed the visitors who came from across the UK. Councillor Manjula Sood gave thanks to the all the team members of both groups who put the exhibition together and how events like this can bring communities together.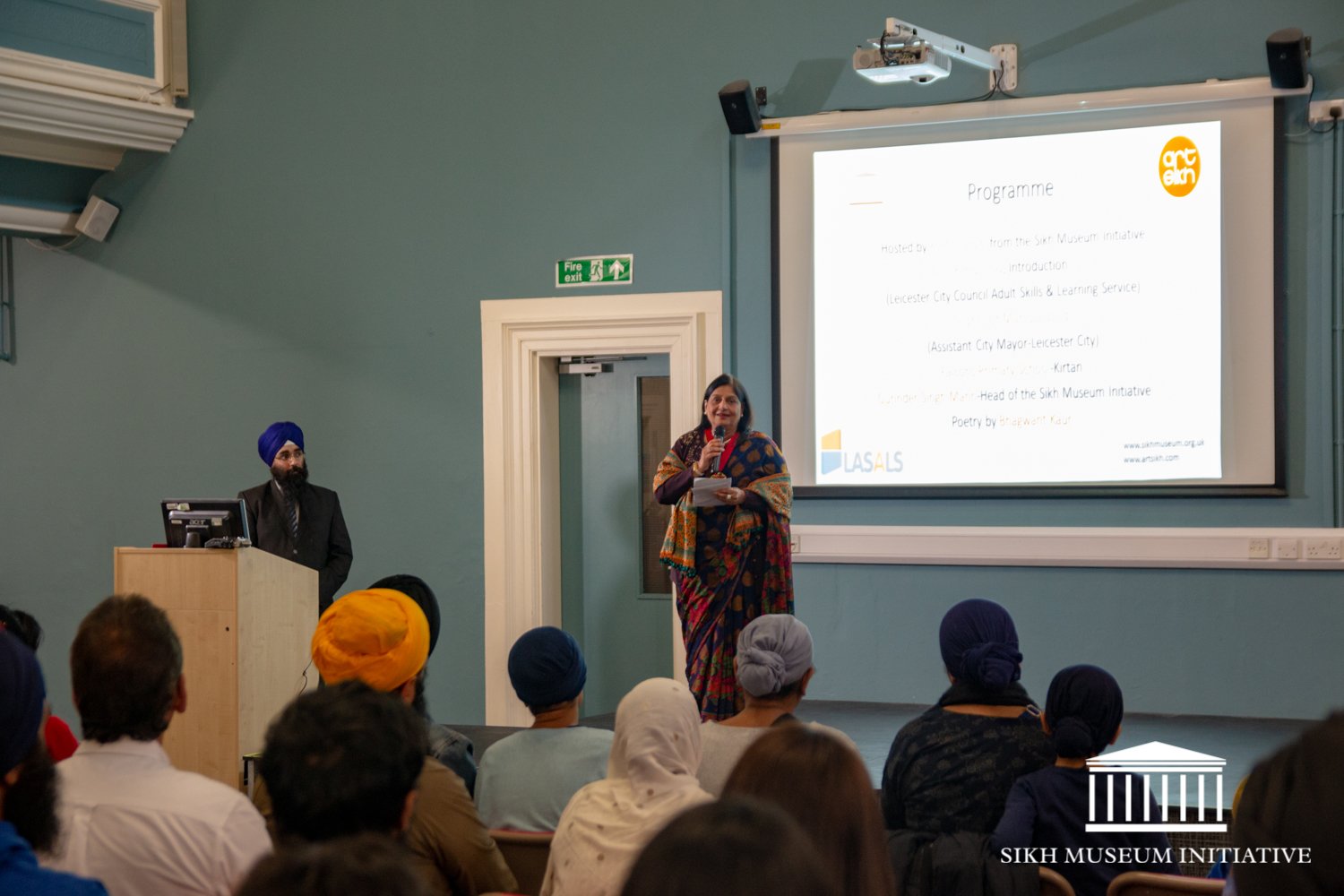 Councillor Manjula Sood with Kartar Singh
The highlight of the evening was the children of Falcons Primary School, Leicester who gave renderings of Sikh prayers. Jasbir Kaur Mann headteacher of the school explained how hard the children had worked for the launch  as well as the children submitting portraits for the exhibition. This was followed by Gurinder Singh Mann (Director-Sikh Museum Initiative) thanking everyone for their hard work and commitment to the project as well as explaining the how the SMI would be changing the landscape of Sikh history through the visionary Heritage Lottery funded project: Anglo Sikh Virtual Museum. Taranjit Singh (on behalf of Art Sikh-Sumanjit Kaur) explained how worked with artists including professionals and some who have never exhibited before has led to the nurturing of Sikh talent across the UK and the world.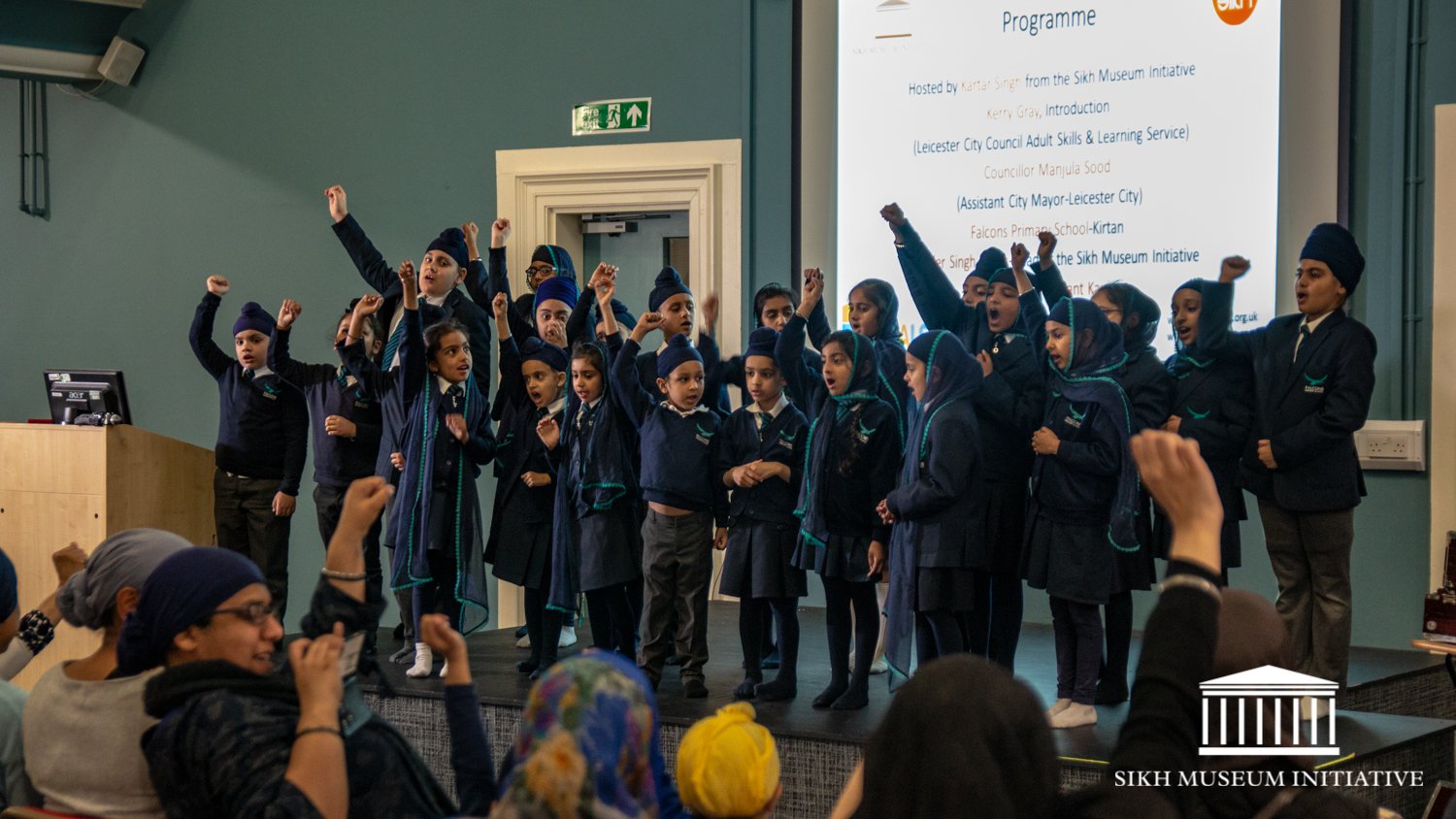 Children of Falcons Primary School, Leicester
The final performance of the evening was by Leicester's Bhagwant Kaur (poet) who through her hard hitting poetry gave expressions of Woman's empowerment, love of the Sikh Gurus and how the Sikh faith had giving birth to Lions and Princesses.
The visitors got the chance to see portraits submitted by not only UK but also worldwide artists, covering themes from the Sikh Guru's, Sikh Empire as well as abstract concepts. The main exhibition board gives a history of the Sikh faith and how Sikh art developed from the time of the Sikh Guru's. The exhibition also features a touchscreen monitor where visitors can see 3d modelled objects as well 3d printed objects.
The event was attended by City Councillors, members of different faith communities and by heads of local Gurdwaras, as well as artists who contributed to the exhibition.
The Sikh Museum Initiative and Art Sikh would like to thank everyone who attended the launch, the food was provided by Midlands Langar Seva Society(MLSS) and photography and video was undertaken by Punjab2000. The exhibition starts on 12th May until 31st July 2018. Visit www.sikhmuseum.org.uk and www.artsikh.com
More photos at http://www.sikhmuseum.org.uk/visionary-sikh-art-exhibition-launches-in-leicester/