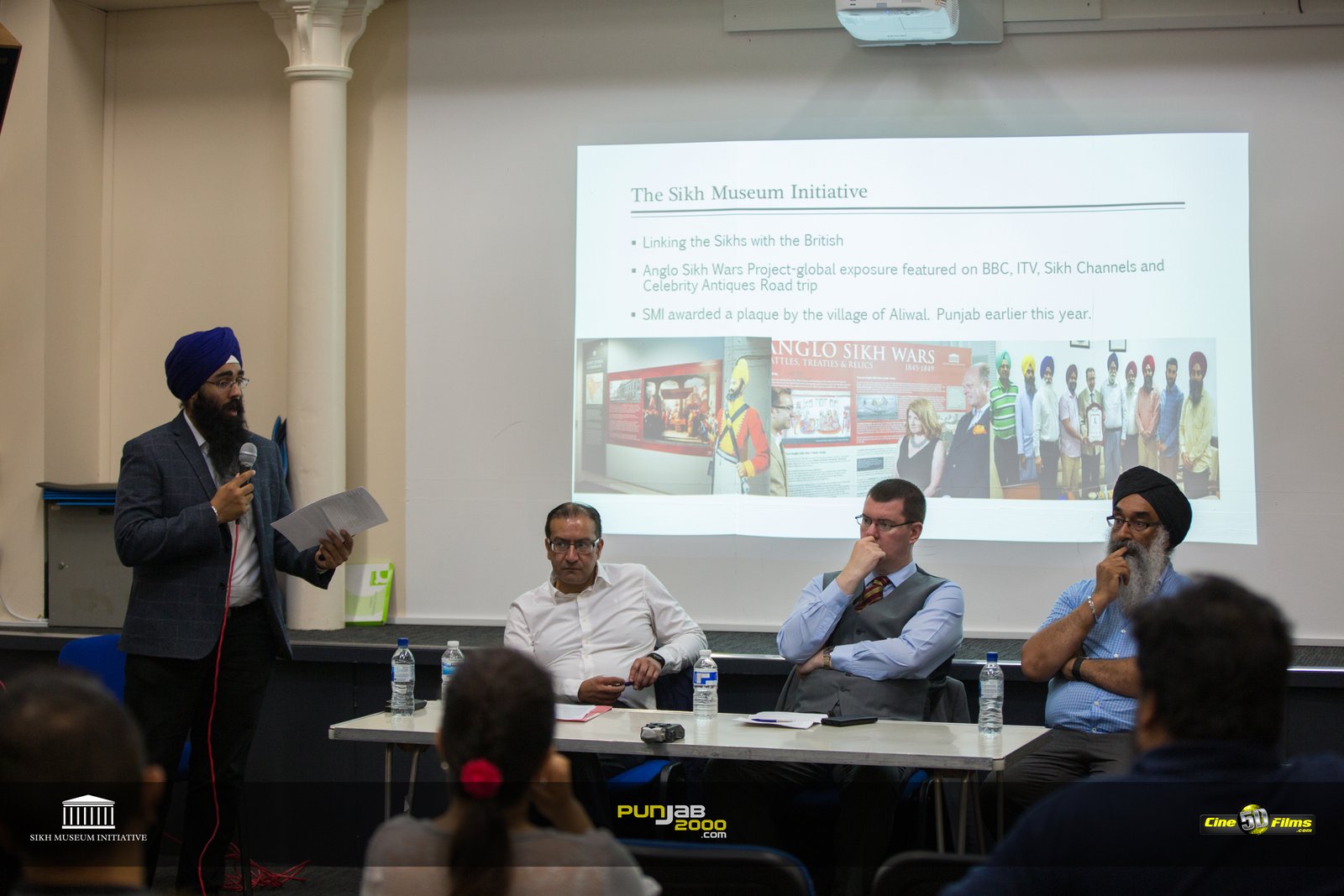 Kartar Singh(L), Gurinder Singh Mann, Dr Christopher Brice, Amarpal Sidhu.

20th June 2018
"More exposure needed on the Anglo Sikh Wars"-This was the key message given by a panel of authors who were discussing the Sikh Empire and the Anglo Sikh Wars of 1845-1849. The often neglected wars from the nineteenth century which pitched the Sikh Empire against the East India Company were to put the British Empire in the balance. The evening was hosted by Kartar Singh of the Sikh Museum Initiative and part of the Contemporary Sikh Art exhibition being held in Leicester, UK.
Each author gave an in-depth history of their research at the onset of the session, this was then followed a number of questions by the attendees of the lecture. Many topics were discussed including the rise of the Sikh Empire, decline of the Sikh Empire, the treachery within Sikh Leadership, the role of British Generals, as well as the aftermath including Sikh recruitment into the British army.
Amarpal Singh Sidhu, author of two books on the Anglo Sikh Wars stated that" the British was on the verge of defeat several times during the course of the battles". Dr Christopher Brice focused on the role of Hugh Gough and stated " he was in praise of the Sikh army and that the British were fully aware this was no native army they were facing". Gurinder Singh Mann, curator of the successful exhibition Anglo Sikh Wars: Battles, Treaties and Relics stated " the crossing of the Sutlej by the Sikh Army was used incorrectly as a pretext of war by the British and should be re-examined".
It was clear as part of the discussion that more effort was needed on this area of Sikh history in the form of lectures, books and exhibitions. It was a common theme throughout the session that there was a plethora of information in the UK as well as India but it was hard to come by pertinent information in Pakistan due to various barriers.
The role of Maharanji Jindan Kaur was discussed and the limited information on the role of female figures in the Lahore Durbar during the Anglo Sikh Wars. The authors were praised for their work on the Anglo Sikh Wars and stated that more exposure was needed on this often-forgotten area of Anglo Sikh history. After the lecture visitors were able to see the wonderful portraits on display as well as learning more about the development of the world first Sikh online museum. Visitors were also given a chance to buy copies of books written by the esteemed authors.
The Contemporary Sikh Art exhibition runs at the The Old Library Galleries, Leicester until 31st July 2018. Thanks to Punjab2000 for the photography and video work