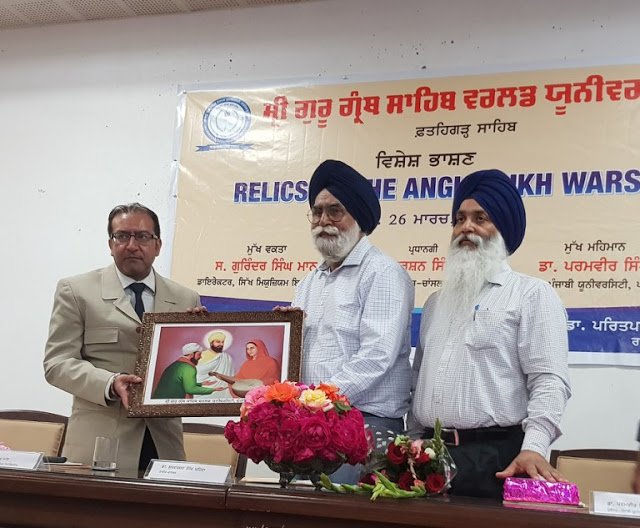 Gurinder Singh Mann with Dr. Sukhdarshan Singh Khehra and Dr Paramvir Singh
Lecture report: Sikh Relics of the Anglo Sikh Wars
Sri Guru Granth Sahib World University
Fatehgarh Sahib,
Punjab
26th March 2018
The Sikh Museum Initiative's Anglo Sikh Wars project has gone from strength to strength and as part of the dissemination on the research activities, Director-Gurinder Singh Mann has been in Punjab to explain the project's findings.
Organised by the Sri Guru Granth Sahib World University in Fatehgarh Sahib, with the Vice Chancellor-Dr. Sukhdarshan Singh Khehra and Dr Paramvir Singh-Punjabi University Patiala. The lecture was attended by the public, staff and students of the University. Prof. Swaraj Raj welcomed the guests and introduced the lecture.
In a hard hitting lecture on Monday 26th March, Mann discussed how the Anglo Sikh Wars started and what led to the loss of the Sikh Empire. He followed this up by explaining how many Sikh relics and artifacts were discovered by the SMI. He spoke about the plethora of relics including manuscripts, arms and armour that are in the UK. According to Mann 'Using technology was the most important way to preserve Sikh heritage. Something which the Sikh Museum was undertaking.'
The lecture was followed by a talk on Sikh Relics related to the Gurus', Dr Paramvir Singh discussed the different relics that are scattered around in the Punjab including the ones belonging to the family of Bhai Rupa. Vice Chancellor-Dr Sukhdarshan Singh Khehra gave a vote of thanks to Mann for the work undertaken in the UK around the subject of the Anglo Sikh Wars and Sikh relics. Mann was given a set of books as well as a portrait painted by Harpreet Singh Naz. Dr Bir Bikram Singh thanked the participation of the lecturers and the students for attending the special event.
Mann was given a tour of the University as well as seeing the Sikh Gallery where many of the portraits created by Harpreet Singh Naz were on display. Mann was appreciative of the hard work undertaken by the artist. Later in the day Gurinder Singh Mann was given award for the Anglo Sikh Wars project undertaken by the Sikh Museum Initiative-this can be read in a later post.
The lecture was picked up by local and national Indian newspapers including the Times of India and the Punjabi Tribune.