23rd October 2018
Great turn out at Guru Tegh Bahadur Gurdwara, Leicester where people came to hear more about the 100th anniversary of the Votes for Women. The Suffragette Flag which has toured throughout the UK reached the Sikh temple today.

Tajinder Kaur introduced the session and Catherine Hallsworth (Festival and Events Team) explained the purpose of the having the flag touring throughout the country. Sikh Scholar Gurinder Singh gave a summary of the Sikh Empire through to Sophia Duleep Singh. Citing examples of dissent by Sophia and her motivations to join the suffragette movement. Representatives, Alison Clipsham and Nicola Muir of The Land Registry of Leicester which has facilitated the Flag relay gave unique contribution on the suffrage movement.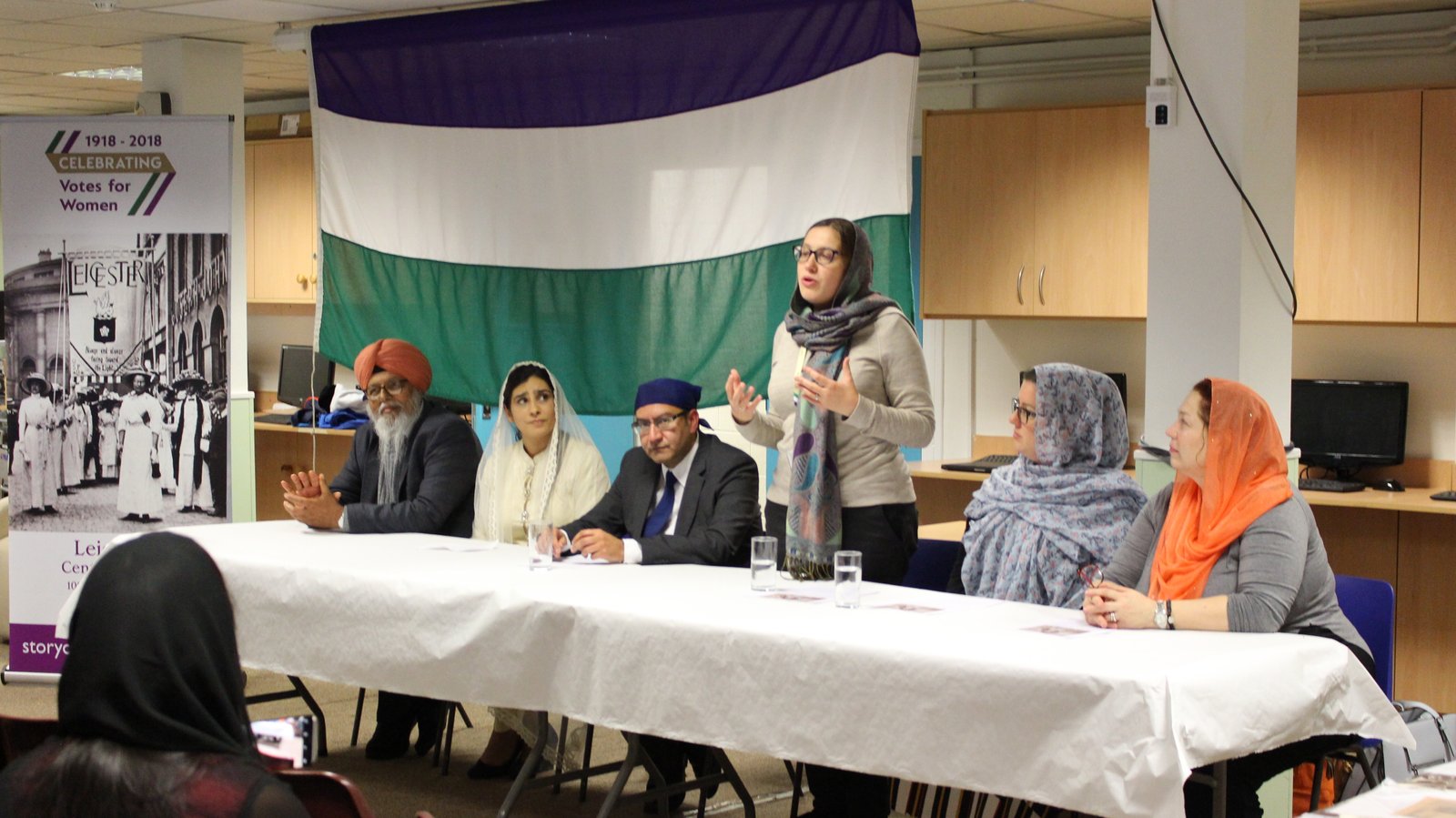 Surinderpal Rai, Tajinder Kaur, Gurinder Singh Mann, Catherine Hallsworth, Alison Clipsham, Nicola Muir
This was followed by a Q and A and interestingly the best questions came from the children in the congregation. Question posed included what led to Sophia to becoming a Suffragette, to have things changed much for women through to whether a statue should be made for Sophia Duleep Singh.
The Sikh Museum Initiative would like to thank the new committee at Guru Tegh Bahadur Gurdwara for hosting the event, the Leicester City Council Festival and Events team as well as all the sewadars (helpers) who made this event come together at short notice. Also in attendance was Assistant City Mayor CClr Piara Singh Clair and CClr Inderjit Gugani. On display were a number of portraits related to Sophia and various other materials.